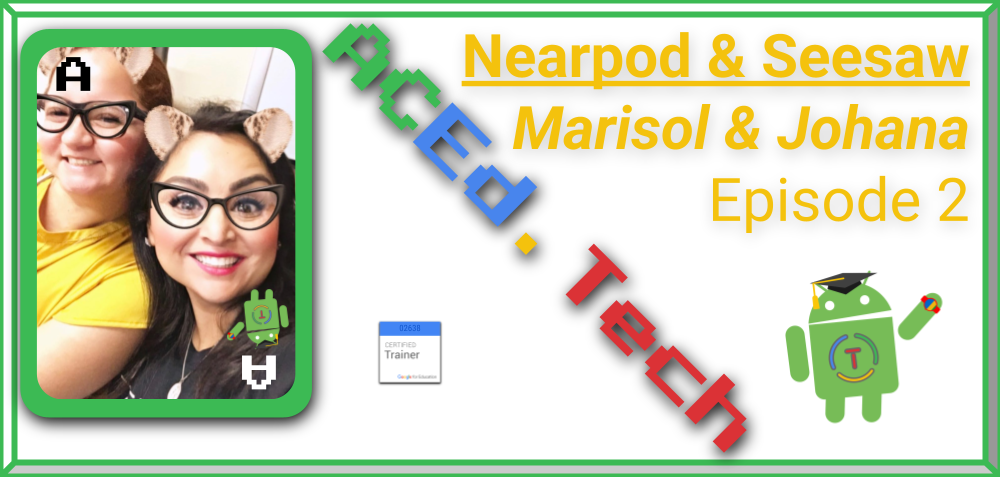 Episode 2
Guest Stars
Marisol H. Salinas
Edinburg CISD - Norma Linda Trevino Elementary
2nd Grade Teacher
Technology Ambassador at ECISD, Seesaw Ambassador, Class Dojo Mentor
Twitter: @MSalinas2nd
Johana Resendez
Edinburg CISD - Norma Linda Trevino Elementary
5th Grade Teacher
Technology Ambassador at ECISD, Seesaw Ambassador, Class Dojo Mentor
G Sweet Ideas
Google for Education Updates
Google Drive add the ability to comment on Microsoft Files. More Here.
Team Drive add the ability to email members. More Here.
Google Drive Files change their editor menus. More Here.

Some will be renamed
Some will be reordered
One will be removed

Publish to specific audience now available. More Here.

Best used with Google Groups

Google Calendar Changes

New View is better with a small learning curve if you've used the old one. More Here.
Old View will no longer be available, switch now. More Here.

Google Arts & Culture Selfie doesn't work in Texas. More Here.
Google Play Audiobooks
YouTube TV. More Here.
Motion Stills now with AR. More Here.
Ad Break
Tech integration for elementary
Nearpod

Slides
Activities
Polls
VR

Seesaw

Create, share, collaborate
Parents can view
All work uploaded instead of journals
Write notes with emojis to connect what they are learning.
Develop digital citizenship skills
Draw & Doodle
Can be moderated
Beyond EdTech
Amazon's Echo loses her voice. More Here

Superbowl ads.
Jeff Bezos (Amazon's CEO) wins the ads according to USA Today's Ad Meter

Nest merges with Google
Genius Hour
Google Does Game Streaming. More Here
Net Neutrality. More Here

Most people are pro Net Neutrality
Most people against Net Neutrality is fear of government control

Retweeting could be copyright infringement. More Here
By Johana
Target Cartwheel

Type of use: PERSONAL
Is it on iOS? YES
UPDATE

The app no longer exists. It was combined with the Target App
By Marisol
Symbaloo

Type of use: EDUCATIONAL
Is it on iOS? YES
Postal Flip Call Out
How do you use:
#trypod
(March is try a new podcast month)
What podcast should I try?
Announcements